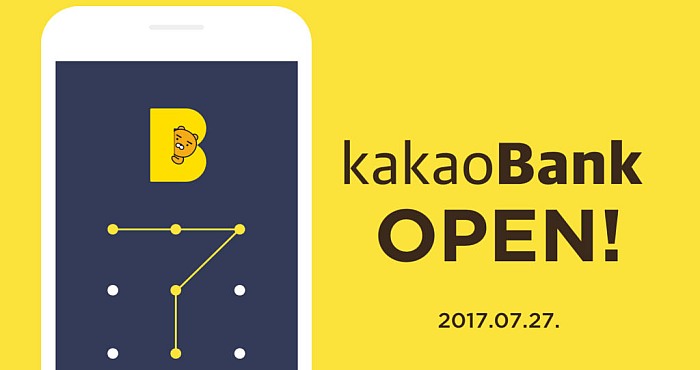 The Financial Services Commission (FSC) gave a bank license to the Kakao Bank this Wednesday, letting it be Korea's second biggest online bank. This move is expected to enhance the vigorous competition with the opponent K Bank and the current conventional banks. The Kakao bank is driven by Kakao, the instant messaging service provider. It was modeled as one of the online banks along with the K Bank which was regarded quite operational and systematic in its performance.
As FSC chairman Yim Jong mentioned in a statement that with the release of Kakao Bank, the tough competition was expected to be built between the two leading online banks in second half of 2017. The government of state will continue to review the related laws so that the info based tech firms can lead the operational Internet banks only.
The co-head of Bank Yun Ho-Young said that Kakao Bank's distinguished offers were foreign remittance. K Bank is presently not able to send the money in foreign accounts. Yun said that the bank would offer the foreign remittance at the expense of cost which is 10% of the current banks.
Another strong point on which Yun stressed on is the bank's strong link with the Kakao Talk, which has more than 40 million active users. He told that the Kakao Bank is fast remittance providing bank, which will run on the Kakao Talk's user base, so that customers can transact by choosing which friend they want to send money through their Kakao Talk's friend list, instead of entering the long, complex account numbers. But, he told that the bank would not use the features of the app to annoy its clients.
Yun further told that the bank's loans would be done on the basis of medium level interest rates via an analysis done on the loan seeker's credit score through data collected by shareholders. Kakao Bank has gathered more than 300 billion in its capital and its shareholders including Korea Investment Holdings with 58%, KB Kookmin Bank with 10%, and other companies like Tencent and eBay, Seoul Guarantee, and Netmarble each with 4%.
But the drawback is that Kakao is not allowed to add the extra capital to the bank treasury and being the biggest stakeholder of it, because of the country's banking legislation, which specifies a restriction of 4% on the industrial income's stake in a bank.